Stan Shih founded of Acer Inc in 1976 with $25,000 of capital created a multi-billion dollar global organisation supplying the world with notebooks, desktops, servers and LDC monitors and projectors.
I was lucky to meet Stan personally at the 2016 Asia Pacific Management Accounting Association (APMAA)  conference in Taiwan.
At the centre of Acer's success what he calls the "Wangdao" Management System. The Wangdao management systems is a management accounting philosophy that focuses on the mind set of staff and a balance of KPIs.
Stan Shih firmly believes Wangdao Management is at the centre of an organisation's success and is dependent on three core beliefs;
Wangdao begins with ideas of creating value for the community
An understanding of the interest of all stakeholders, creating win-win situations
Planning for a Sustaining ecosystem
The three core beliefs are underpinned by business measures. To apply Wangdao Management Accounting philosophy the business measures must cover six categories of measures which he outlines as the Hexa-Aspect Values General Theory.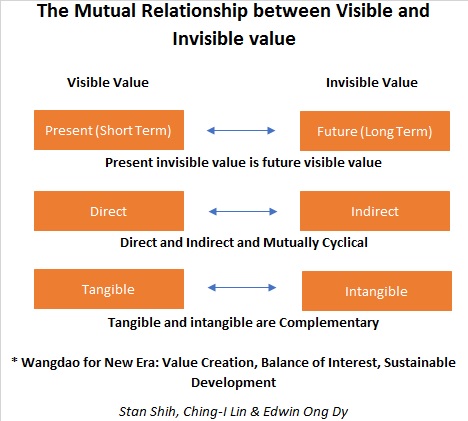 The key is to understand you balanced position in regards to value creation and resource consumption and ultimately the creation of new value. All businesses must be constantly on the lookout for how to "develop new methods (of value creation) before the old become old"
What does the above mean practically? Your budgets and forecast is your road map for reaching your planned financial destination. Your budget plans the ratio of resource consumption with activity.
Whether your KPI ratio is to do with asset utilisation rates, labour efficiency calculations, waste reduction or services delivered; they all represent the Visible Value. (Present position, Direct and Tangible)
The actual versus plan result each month tells you how your tracking against your road map and allows decision makers to create the Invisible Value.
The Invisible value created by planning future actions, understanding the indirect and intangible benefits of the actions to the business. Aspects of marketing, public relations, R&D activity, benefits of optimising the work environment and organisational culture often fall into the invisible value each organisation needs to generate.
Wangdao implications for the Annual Budgeting process
From a Finance perspective, the annual budgeting process is an important aspect of creating the invisible value in your organisation. You are setting the roadmap for the year ahead, the stakes in the sand to identify your progress and to make future decisions on resource allocation.
Organisations who have a effective budgeting process are 75% more successful than those who don't.
How well do you leverage the invisible value from the annual budgeting process to help your organisation to provide greater service to your target community?
Contact Putney Breeze if you'd like to maximise the invisible value from your budgeting process.
"Every thought, every idea, in your dealing with people, in each management action, all never stray from this path." Stan Shih